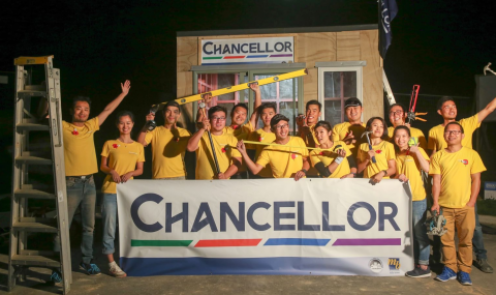 BUILT IN ONE ON EARTH DAY
As a member of the Sustainability Business Network, Chancellor regularly carries out activities to contribute towards New Zealand's reputation of being a model sustainable nation. The team event was held on International Earth Day 2017 in an effort to promote environmental awareness and protection.
The whole Chancellor team spent the day using gathered waste materials from different sites and working in four groups to build the on site office. 100 meters of 4 by 2 timber wood, 10 pieces of plywood floor material, 15 square meters of building wrap, 10 square meters of shingle roof materials, and waterproofing materials were gathered from different sites of Chancellor projects and rounded up as the new born pragmatic site office.
The six-square meter site office built purely from construction waste was a great example of building material recycling. By being a successful sustainability role model among the local building society Chancellor is leading the way in minimizing construction waste and going fully circular.